[av_one_full first min_height=" vertical_alignment=" space=" custom_margin=" margin='0px' padding='0px' border=" border_color=" radius='0px' background_color=" src=" background_position='top left' background_repeat='no-repeat' animation="]
[av_textblock size=" font_color=" color="]
Im bringing cali back…as extra bodily baggage
I'll always remember you when I look down at my belly and can't see my toes! Au revoir!
Banh Beo and Banh Bot Loc at Ngu Binh restaurant. Amazing. Huong Giang was great, but my little Hue heart likes this place much better! The Banh Beo (white circles) were more voluminous and the Banh Bot Loc had a more seasoned shrimp filling with a chewier but equally soft exterior.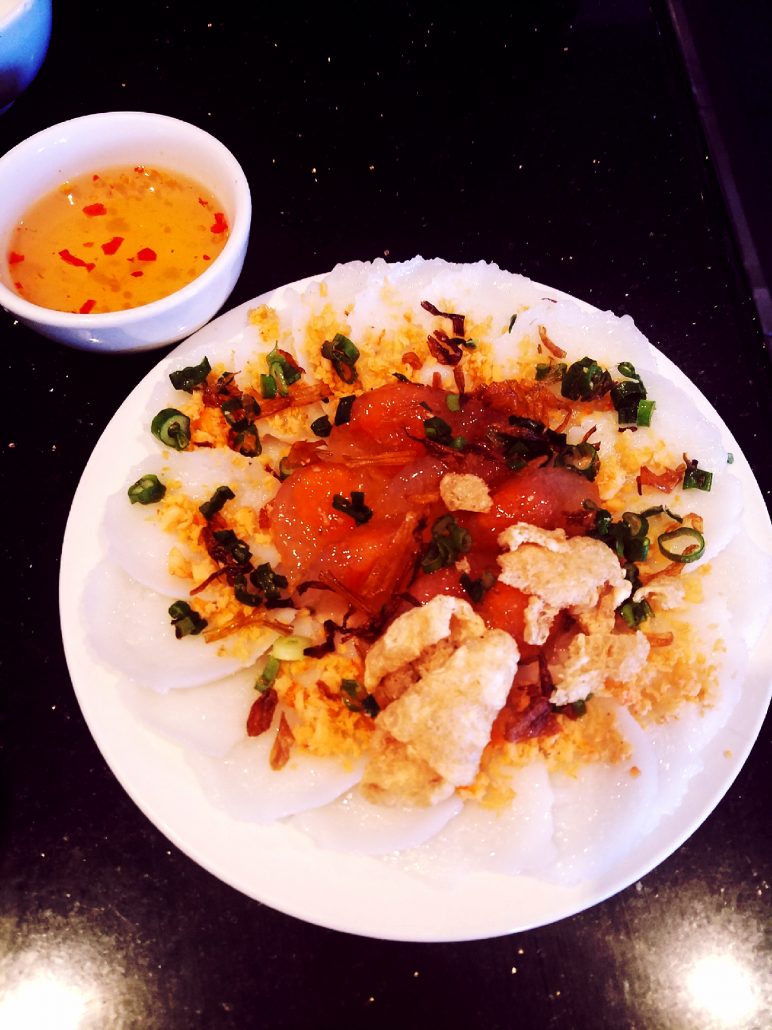 Mommy told us to eat Mi Quang instead of com for our last meal and Ngu Binh is known for the Mi Quang…and I know why! This is a HUGE bowl! It was the Mi Quang Dac Biet for only 8.50! The salad medley is just like homes and I've never encountered it anyone else but here besides home. Great job Ngu Binh! This shot was taken when I was beginning to mix everything together. I just wanted a shot to show my momma the salad!
The salad is placed under the tumeric yellow rice noodles and a hot and little bit spicy pork broth is poured over the noodles. The salads kind of meld together with the noodles under this heat from the salty broth and its divine! Shrimp and pork can be seen along with some peanuts and Banh Da (black sesame rice crisps). Take me back, I miss this already!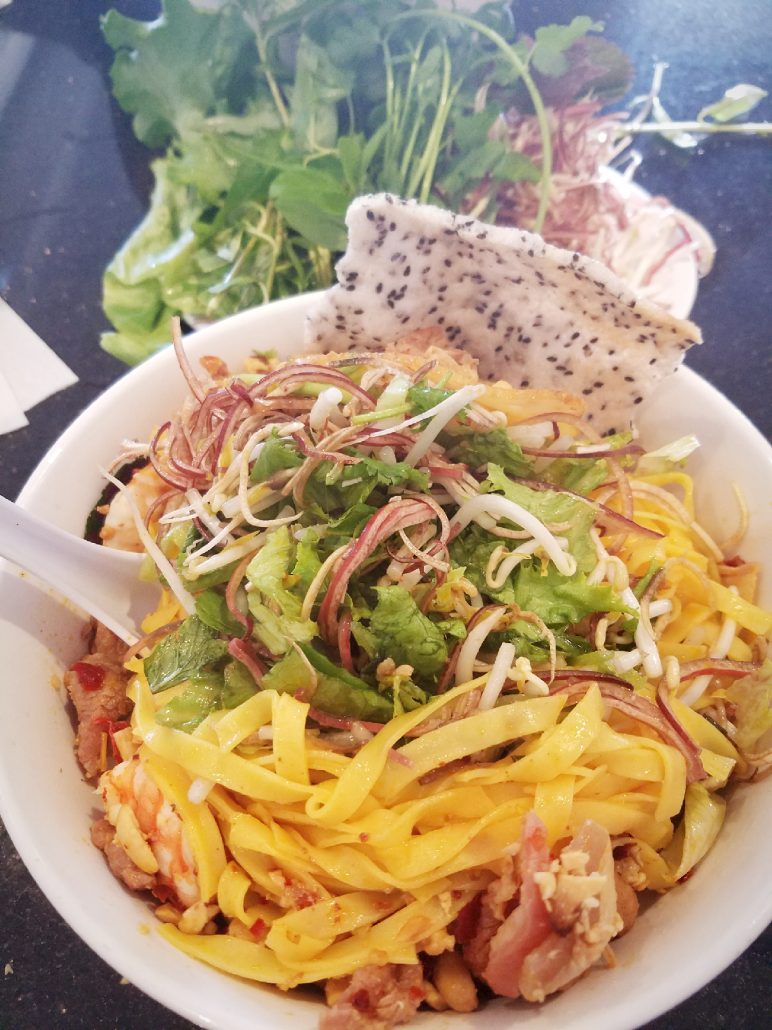 Oc & Lau never ceases to please me! Went here last year, came back for these babies. These were my least favorite out of the ones we got, but nonetheless still delicious. These finger clams came out with lots of fried scallions, scallion oil, peanuts, some sriracha, and Vietnamese coriander. These clams are still sizzling when they come out so it makes it even more exciting.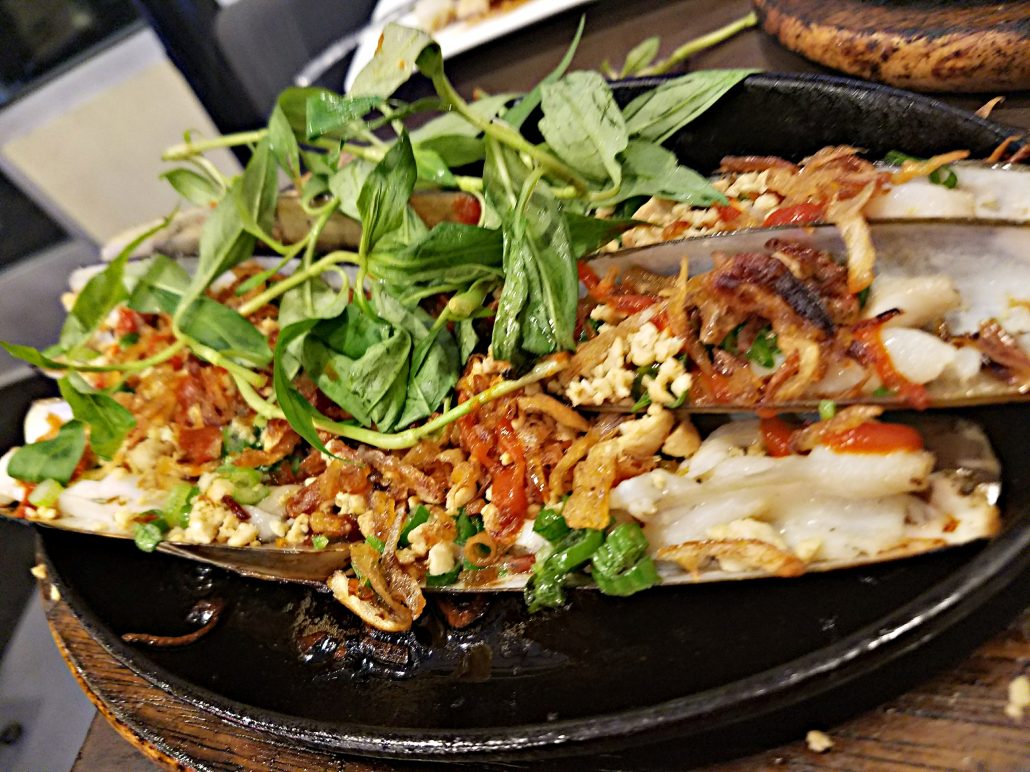 Ngu Binh's Bun Bo Hue Dac Biet, only 8.50 once again! Holy smokes, I NEVER get Bun Bo Hue when I go out because nothing can beat my moms and pops! But boy oh boy, this is probably the closest it'll ever get. The 'Dac Biet' versions of this and Mi Quang I think is more seasoned for a Hue person and being so, a bit more spicy. Absolutely delicious. These were big bowls and had Cha (pork sausages), Gio (pig's foot), Huyet (pork blood), and slices of pork. Because I am incredibly excited by my region's food, this is now a must visit place!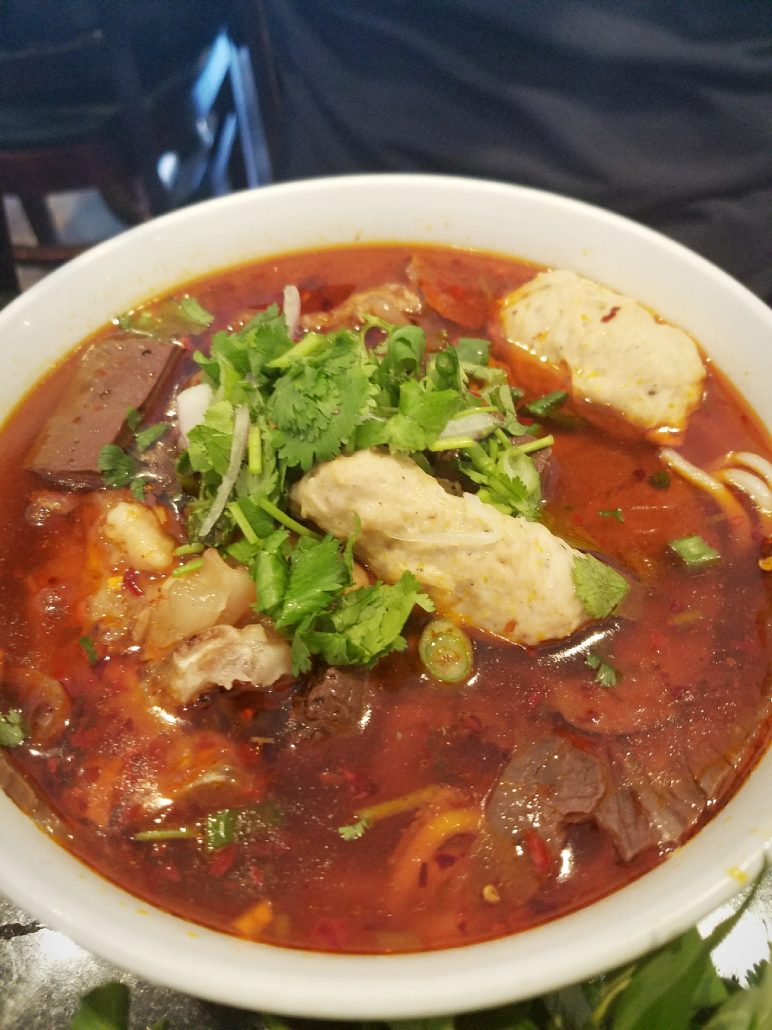 This drink combines my 2 most favorite things ever. Avocado and Durian. SO GOOD! Can be found made perfectly at Oc & Lau. But I would actually prefer it without the cubes of ice. It just gets in the way. The Avocado is blended up with some Durian but then there's also chunks and pieces of Avocado and Durian that can be found. There's some jelly pieces as well. This is called Bo Dam Sau Rieng. I wish there was more. It was gone before I even realized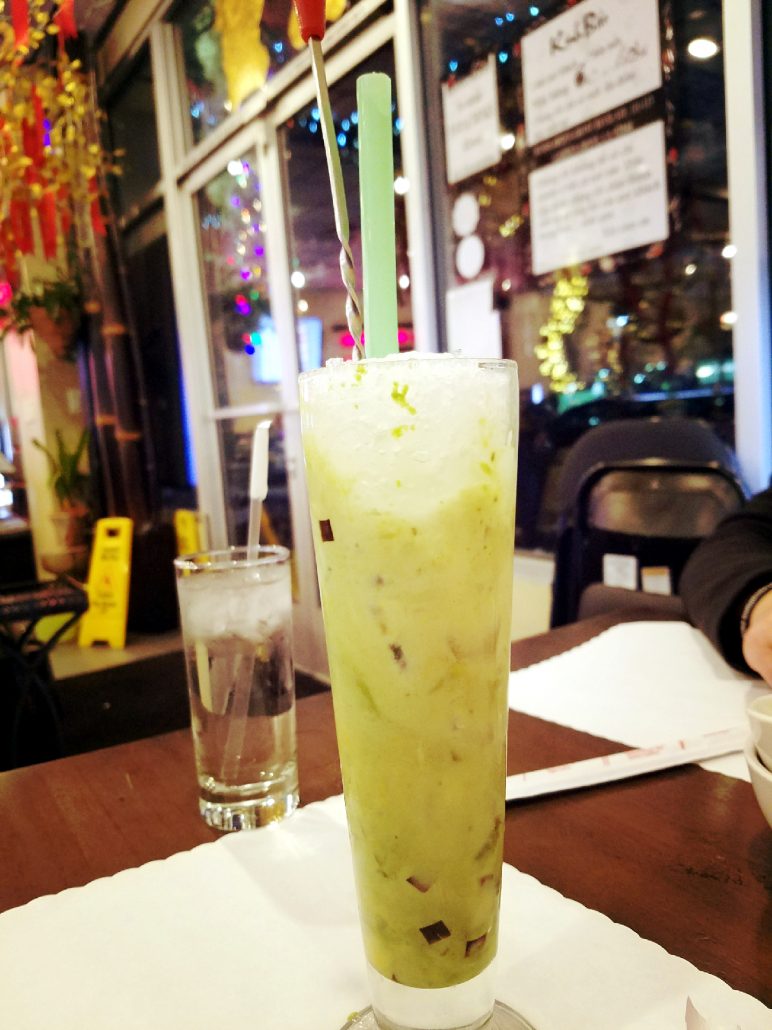 Baos Hog – Eat like a boss take 1! These were okay. I would like to make them myself in the future instead.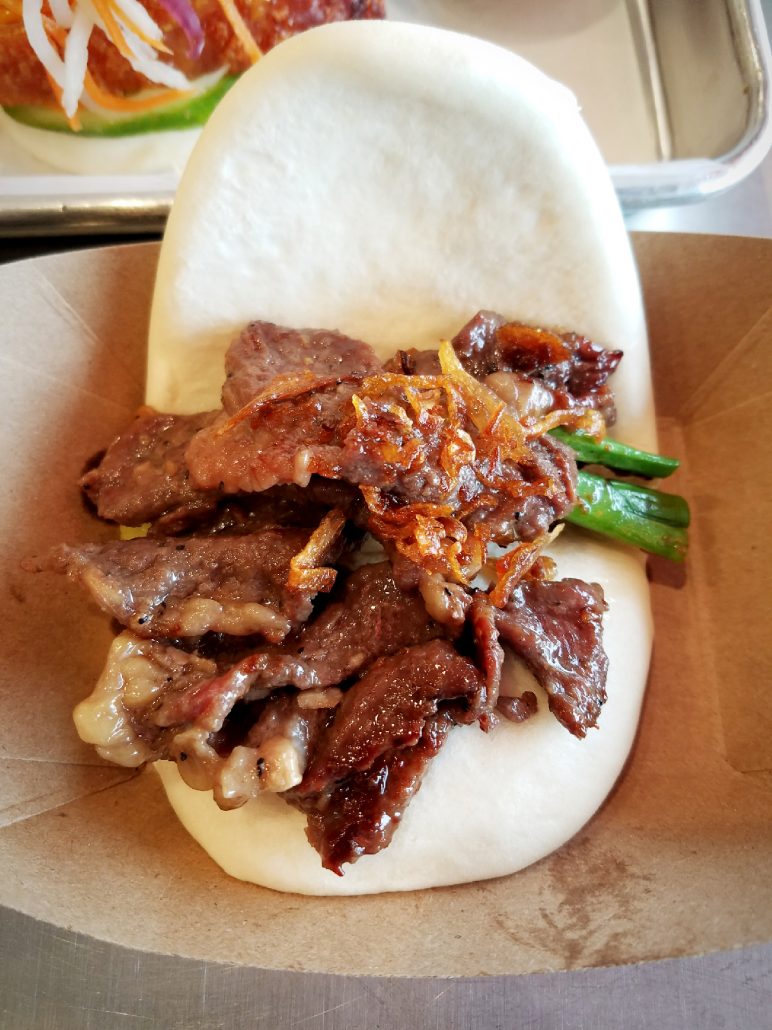 YUM YUM YUM!!!!!! These babies are called 'Chung Vit Lon Rang Me'. Balut eggs in a tamarind sauce. Made perfectly!!!!! OMG amazing. These are duck embryo eggs that were boiled then rolled in some sort of starch and deep fried. Then they were coated in a tamarind garlic based sauce that was the perfect amount of sweetness and zing. Absolutely stunning.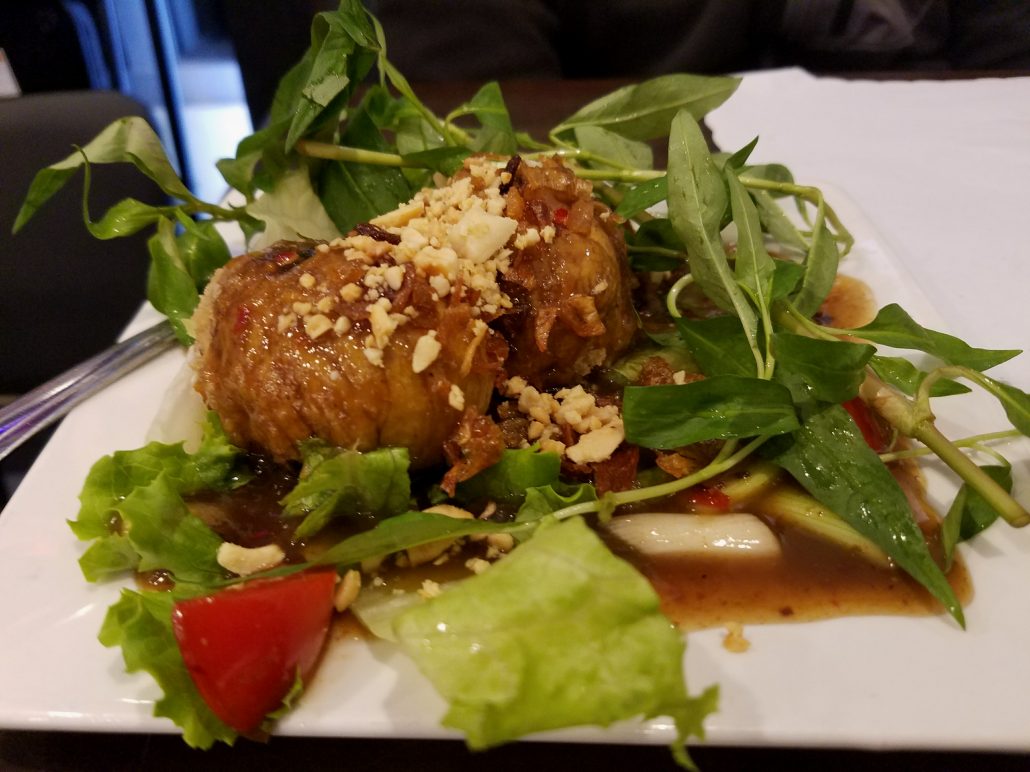 I got this for you sister # 2! Salted Cream Green Thai Tea. It was pretty delicious although I didn't really taste the salty component. For 2.95, it was a nice complement to the thai chilis that were burning in my mouth. This was at Ha Noi Corner.
I really wanted Oc (snails) and decided to try this new joint I heard about, Garlic and Chives! I was disappointed. The quality and size of the snails were a lot less bang for the buck than Oc & Lau. I don't know why they're rated so high. Oc & Lau still has my heart, but at least I tried right? There was definitely more onion than snails on this plate. The onions weren't dressed or anything and the snails were previously removed from the shell and had 3/4 of it chopped of already. I'm Vietnamese, we eat all of it! This shot was before I took any bites.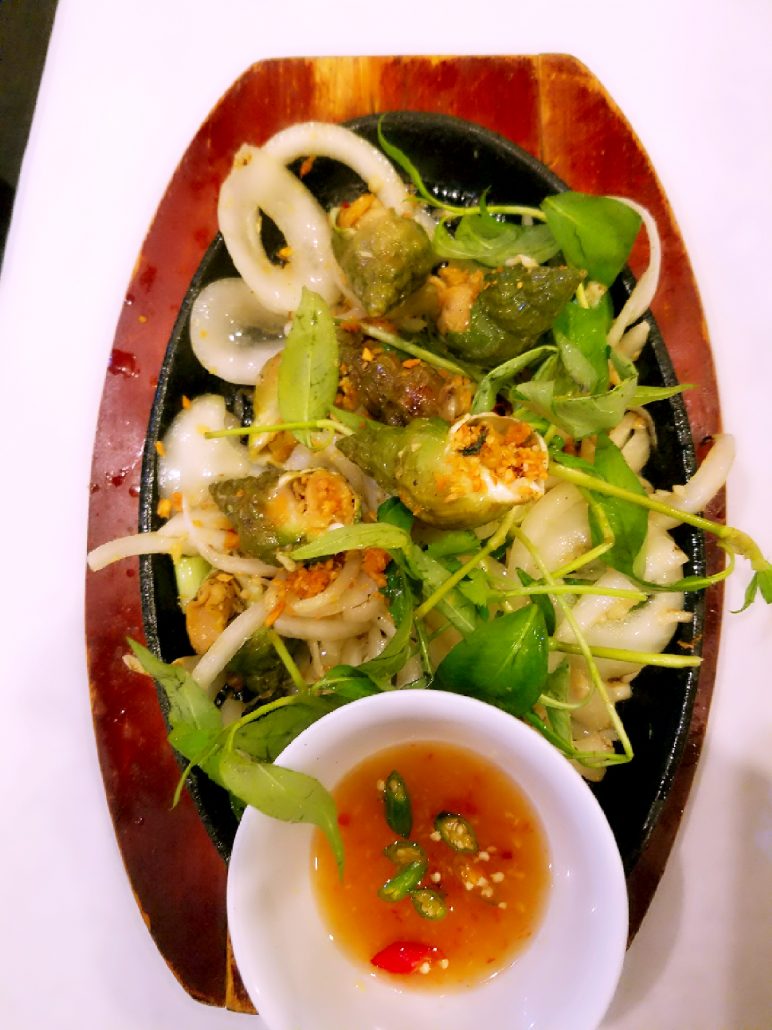 Ngu Binh – Banh It Ram. We had to try this because it's a Hue streetfood I never experienced. It's a deep fried rice cake (banh it) with a steamed pork/shrimp filled banh it on top. When I say Vietnam is about textures, this is what I mean. The crunchy bottom with the chewy soft center and a soft component on top. It makes sense to put the steamed version of the dumpling on top since it doesn't scrape your mouth. This is very heavy since it's made out of glutinous rice. It was alright, but I'd rather stick to my Banh Bot Loc and Banh Beo.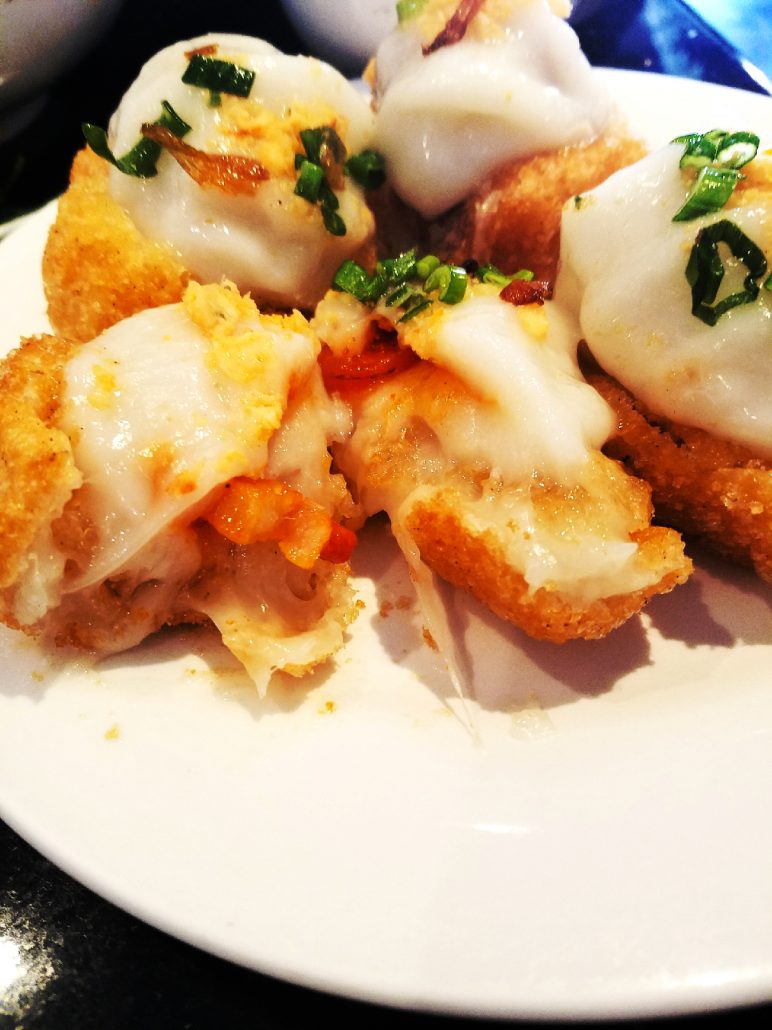 Roasting Waters Bubble Tea! Omg, for under 5 dollars a drink, you get these very cute glass bottles! The shop was very cute. We got our drinks and sat outside in the seating area and did our morning prayers while basking in the sun and sipping these babies. I got a Lychee green tea with basil seeds unsweetened, and he got a dragon fruit medley thing with blueberries and toasted oatmeal on the bottom. Mine had a very strong bitter green tea and his was pretty sweet so alternating drinking from these bottles made a good combo.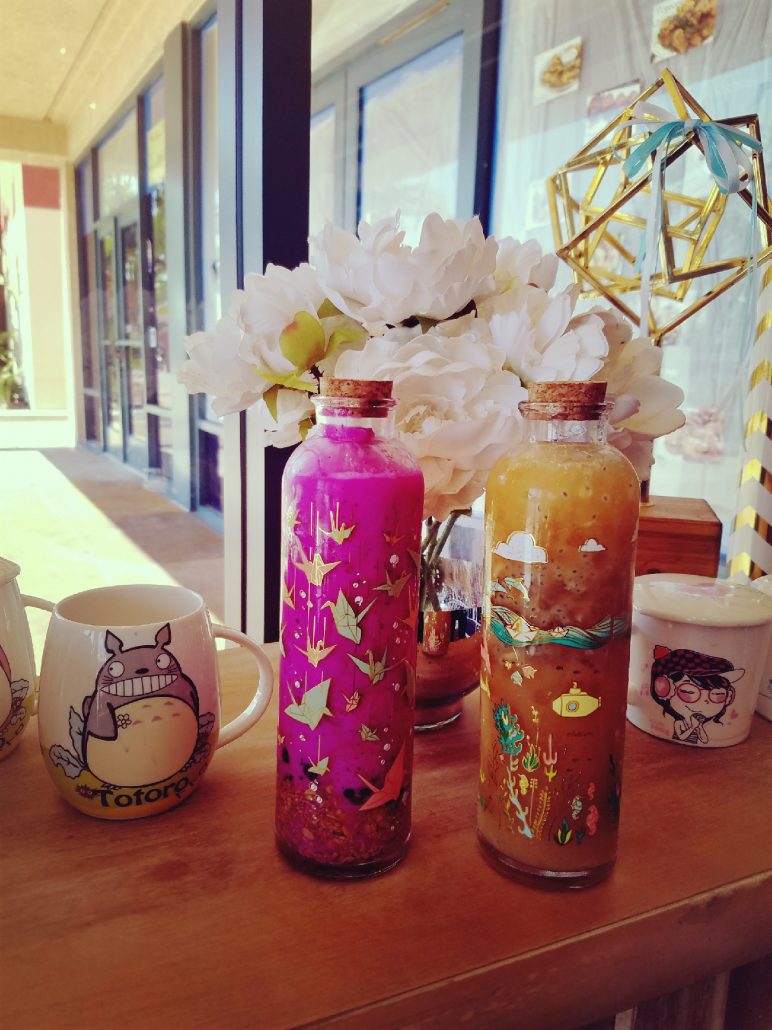 These are So Mo Hanh from Garlic and Chives. Little scallops topped with some butter, green onions, vermicelli, tobiko, and peanuts. Very underwhelming. I think it's a preference things. Being the shellfish loving girl I am, I prefer my shellfish to be cooked in a way you can still taste the sweet softness of the clams. These were a bit hard so I knew they were slightly over cooked. There was a lot more going on that kind of overpowered the underwhelming scallops as well. That comment came from Anh, 5 points for Gryffindor!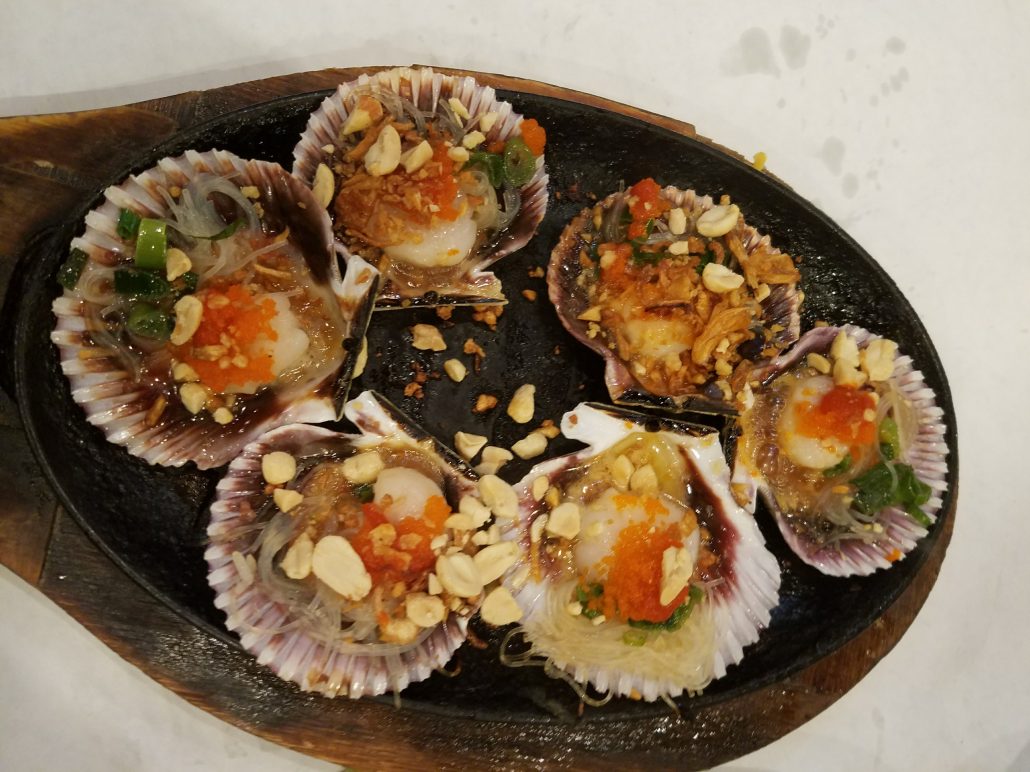 Ngu Binh's Mi Quang Dac Biet untouched!! One waft of this baby and you'd give someone your kidney for a bowl! Okay a little exaggerated, but GOODNESS, take me back!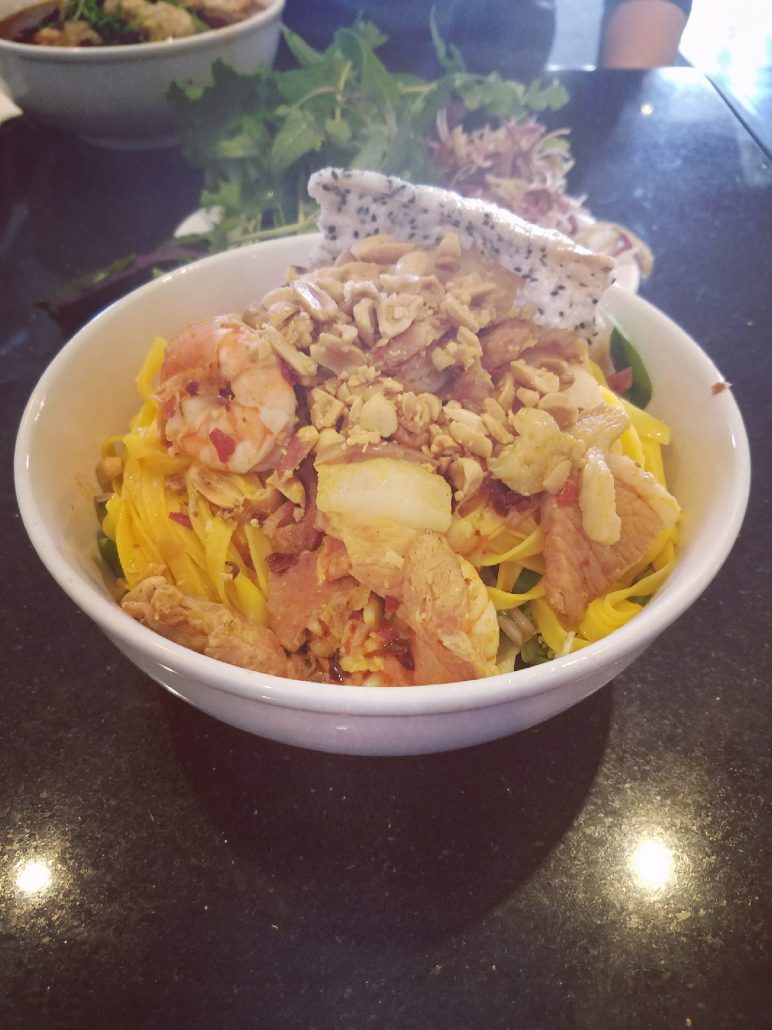 [/av_textblock]
[/av_one_full]
[av_one_half first min_height=" vertical_alignment=" space=" custom_margin=" margin='0px' padding='0px' border=" border_color=" radius='0px' background_color=" src=" background_position='top left' background_repeat='no-repeat' animation="]
[av_textblock size=" font_color=" color="]
This is Banh Cuon Thit Nuong Cha Ha Noi. YES. COME HERE. This trip was Anh's & myself first time experiencing Cha Ca Ha Noi in general. So we felt like we needed to really do it justice. There's kind of an art in eating this. The broth that comes with the Thit Nuong (grilled pork) and Cha Ha Noi (Ha Noi style grilled pork patties) is very sweet, salty, and porky. It reminds me of the broth from Thit Kho (a vietnamese stewed pork dish). What you do is tear up some salad and herbs (herbs cut the oily fattiness of the pork), put on some of the Banh Cuong (rice papers) and spoon over some broth and pork. Make sure to squeeze the lime in the soup first.
The best bite would be comprised of eating some thai chili pepper and then putting a bit of everything in your mouth. While you're chewing, add some of the pickled daikon and carrots found floating in the soup. So yummy!
[/av_textblock]
[/av_one_half]
[av_one_half min_height=" vertical_alignment=" space=" custom_margin=" margin='0px' padding='0px' border=" border_color=" radius='0px' background_color=" src=" background_position='top left' background_repeat='no-repeat' animation="]
[av_textblock size=" font_color=" color="]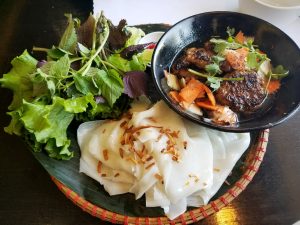 [/av_textblock]
[/av_one_half][av_one_half first min_height=" vertical_alignment=" space=" custom_margin=" margin='0px' padding='0px' border=" border_color=" radius='0px' background_color=" src=" background_position='top left' background_repeat='no-repeat' animation="]
[av_textblock size=" font_color=" color="]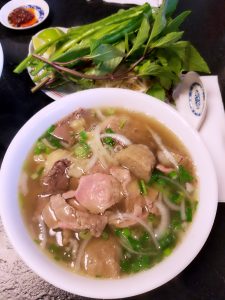 [/av_textblock]
[/av_one_half][av_one_half min_height=" vertical_alignment=" space=" custom_margin=" margin='0px' padding='0px' border=" border_color=" radius='0px' background_color=" src=" background_position='top left' background_repeat='no-repeat' animation="]
[av_textblock size=" font_color=" color="]
So who the hell would go to Westminster of Cali, Little frigkin Saigon, and have pho? Something that's found literally everywhere.. I don't even eat pho at restaurants here because my family makes it so well…but AYYYOOOOO, Pho 79 is a must have now. The broth is rich and hearty. This is how pho should be. With a kazillion pho 1, 2, 2, 45, 46, 67, etc etc around the area, you definitely need to be outstanding and consistent to be the most packed restaurant in the area at all times. Open at 6am and ready to cure any hangover, it's calling you!
[/av_textblock]
[/av_one_half][av_one_half first min_height=" vertical_alignment=" space=" custom_margin=" margin='0px' padding='0px' border=" border_color=" radius='0px' background_color=" src=" background_position='top left' background_repeat='no-repeat' animation="]
[av_textblock size=" font_color=" color="]
Chung Vit Lon (balut, fertilized duck embryo eggs) from Phuoc Loc Tho. We searched high and low for a place that would just serve us these eggs. We went to Balut Pateros/Long An's two locations and was turned away since they only had the boil at home yourself eggs. Maybe next year we'll do that. These were 2.50 each so the ease of having it come already cooked does come at a steep price. But yummy. Gotta have that Vietnamese Coriander and salt and pepper tho!
[/av_textblock]
[/av_one_half][av_one_half min_height=" vertical_alignment=" space=" custom_margin=" margin='0px' padding='0px' border=" border_color=" radius='0px' background_color=" src=" background_position='top left' background_repeat='no-repeat' animation="]
[av_textblock size=" font_color=" color="]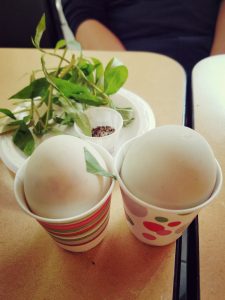 [/av_textblock]
[/av_one_half][av_one_half first min_height=" vertical_alignment=" space=" custom_margin=" margin='0px' padding='0px' border=" border_color=" radius='0px' background_color=" src=" background_position='top left' background_repeat='no-repeat' animation="]
[av_textblock size=" font_color=" color="]
This was at Garlic and Chives. I was underwhelmed and ate these so quickly with Anh that I had time to play a bit ?
[/av_textblock]
[/av_one_half][av_one_half min_height=" vertical_alignment=" space=" custom_margin=" margin='0px' padding='0px' border=" border_color=" radius='0px' background_color=" src=" background_position='top left' background_repeat='no-repeat' animation="]
[av_textblock size=" font_color=" color="]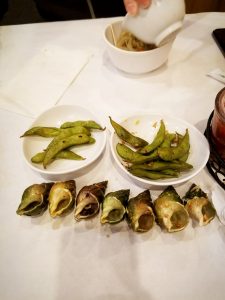 [/av_textblock]
[/av_one_half][av_one_half first min_height=" vertical_alignment=" space=" custom_margin=" margin='0px' padding='0px' border=" border_color=" radius='0px' background_color=" src=" background_position='top left' background_repeat='no-repeat' animation="]
[av_textblock size=" font_color=" color="]
Oc & Lau!!!! This is where it's at! After Garlic and Chives I was so upset, Anh offered to take me to Oc & Lau to make things right before we went home. Thank you soooo much!!! These are Oc Huong Nuong Tieu. These cost more than they other preparations of butter and garlic and scallion oil, BUT TOTALLY WORTH IT. There's butter in this babies and a nice rich peppery concoction with herbs and spices. I could have 10 of these by myself. These were so good, I didn't even use the ginger fish sauce that it came with. Must have.
[/av_textblock]
[/av_one_half][av_one_half min_height=" vertical_alignment=" space=" custom_margin=" margin='0px' padding='0px' border=" border_color=" radius='0px' background_color=" src=" background_position='top left' background_repeat='no-repeat' animation="]
[av_textblock size=" font_color=" color="]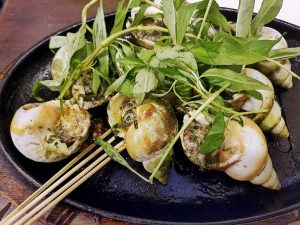 [/av_textblock]
[/av_one_half][av_one_half first min_height=" vertical_alignment=" space=" custom_margin=" margin='0px' padding='0px' border=" border_color=" radius='0px' background_color=" src=" background_position='top left' background_repeat='no-repeat' animation="]
[av_textblock size=" font_color=" color="]
We actually ordered all the Baos Baos Hog had to offer. Haha, they were cheap! ish.. You got the Korean style beef, chicken with a slaw, braised pork, roasted pork, duck, and char xiu. Again, I would rather do these myself. The popcorn chicken looked  yummy tho, cept we were too stuffed to get them ?
[/av_textblock]
[/av_one_half][av_one_half min_height=" vertical_alignment=" space=" custom_margin=" margin='0px' padding='0px' border=" border_color=" radius='0px' background_color=" src=" background_position='top left' background_repeat='no-repeat' animation="]
[av_textblock size=" font_color=" color="]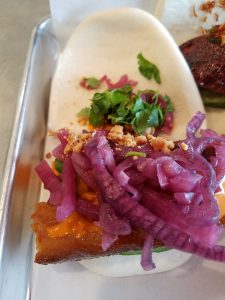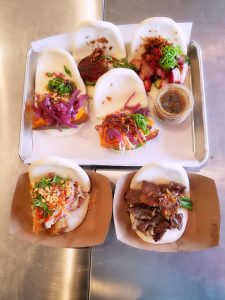 [/av_textblock]
[/av_one_half][av_one_half first min_height=" vertical_alignment=" space=" custom_margin=" margin='0px' padding='0px' border=" border_color=" radius='0px' background_color=" src=" background_position='top left' background_repeat='no-repeat' animation="]
[av_textblock size=" font_color=" color="]
Oc Len Xao Dua – Phuoc Loc Tho. These suckers are delicious since they're cooked in a garlic, lemongrass, coconut milk sauce. These don't come with toothpicks since the ends are already cut and they're quite small. All you do is suck them out and make sure you spit out the little plastic feeling flap at the entrance of the snail. I worry about the freshness at this place since we went on a weekday, but they're still worth the price!
[/av_textblock]
[/av_one_half][av_one_half min_height=" vertical_alignment=" space=" custom_margin=" margin='0px' padding='0px' border=" border_color=" radius='0px' background_color=" src=" background_position='top left' background_repeat='no-repeat' animation="]
[av_textblock size=" font_color=" color="]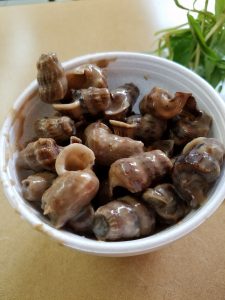 [/av_textblock]
[/av_one_half]